Crossminton Karakal CM 85
New stock has arrived. price euro 119,00 each + UPS freight and insurance, in Germany Euro 134,00
Please ask for freight charges for shipment abroad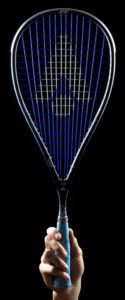 Congratulations to all World Championships 2022 winners and it is interesting to see that the mens and womens open champions as well as many other players in the semi finals in doubles and singles in all age groups (videos from Zagreb on youtube) are now using the Karakal shaped racket with the trampoline effect and not the tradional racket shape with the bridge. The longer main strings simply give more power. We were the pioneers of the pear shaped or tear drop racket form in Crossminton and inevitably others will follow.
Now the Karakal CM 85 with a new "hot zone" string. The racket remains under 125 gr. as in the past,we are now offering an alternative design.
Many letters of thanks have been received from players who are no longer suffering from arm and shoulder problems, such moments are special to us and encourage us to continue- many thanks for the positive feedback.
Photography: Antonia Murray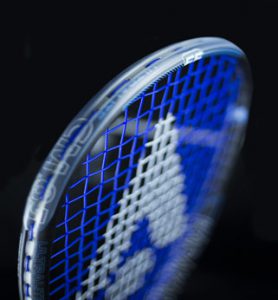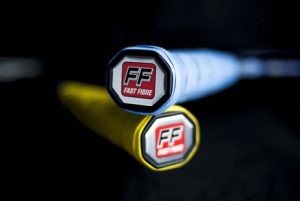 ---
THE CROSSMINTON RACKET FACTS
The Karakal CM 85 Crossminton racket is the LIGHTEST Crossminton racket in the world.
The company Karakal has been producing rackets (Squash, Tennis, Badminton, Racketball and Table Tennis) since 1978 and the continual improvement and development using the latest technology and materials "Designed in the UK" has resulted in a sophisticated new product suitable for all standards of play.
Comfortable to hold … Nano Carbon Gel One-piece-Construction is extremely easy to handle and this "ultra lite" racket is engineered to give you advantages.
Lighter- Fast Fibre is a new generation material and is different to the conventional graphite layups. With a frame weight of 85 grams and a total weight 125 grams (strung) improves manoeuvrability and is the absolute lightweight racket.
Faster – more power – why? The racket returns to shape after the shot has been played, 10% faster than the conventional layups, this results in more power with less effort.
The aerodynamic open throat or "tear drop" shape of the racket head generates more power and the longer parallelogram main strings increase the trampoline effect, giving you a faster response and more power.
Stronger- the Karakal patent Nano Resin Gel and Fast Fibre graphene layups is used for example on millions of Karakal Squash rackets where permanent wall contact is part of the game. Crossminton players now have the opportunity of benefitting from the new technological evolution.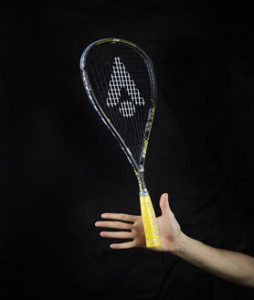 When designing the racket our main considerations were to fulfill the following aspects:
Relief for players who have shoulder, elbow or wrist problems by producing a racket with minimal weight.
The CM 85 is produced and supplied with a balance point (BP) of 319mm. Depending on player's preferred grip size, the BP lies between 310 and 319 mm enabling an extremely fast swing which is converted into velocity.
Players that prefer an aggressive style of play and put pressure on opponents need less time to prepare their racket and this promotes a quicker attack.
The racket length 605mm, head size 455 sq. cm. is supplied with Nano and new Hot Zone string with the recommended 16-14 kgs tension.
Children and youngsters will find it easy to hold the racket and improve their technical skills at an early stage and enjoy the game even more – the total racket weight of 125 grams make this possible! This completely new racket is an all-rounder for everyone.
---
Test THIS RACKET AND DECIDE YOURSELF …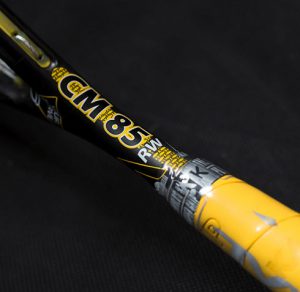 Crossminton World Championships 2019
This wonderful event with all its flair and with the large number of nations taking part is undoubtedly something special to look forward to in July.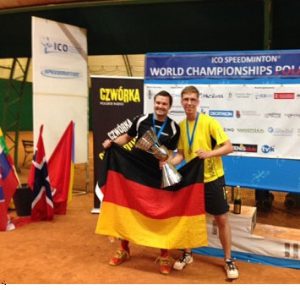 Picture: Germany's mens number 1 ranked player and curretn German champion Sönke Kaatz (right) after winning the doubles World Championships together with his partner Robin Joop.
For crossminton clubs outside Germany which have not been able to test the Karakal racket – please enquire about a tester.
Congratulations June 2019
Mens Swiss national champion 2019: Stefan Zedi (Speed Badminton Club Luzern)
Ladies Swiss national champion 2019: Claudine Boyer (Speed Badminton Club Luzern)